Accent ACCESS Password Recovery


Accent ACCESS Password Recovery hilft Ihnen vergessenes oder verlorenes Passwort für die Eröffnung Ihres Datenbanksystem Microsoft Access 6.0/97/2000/XP/2003. Das einfache und eingängige grafische Programminterface, textabhängige Promting und das Referat nach der Programmeinbeziehung helfen bei der Programmbeherschung und bei dem sofortigen Rückstellen der Passwörter. Wählen Sie einen File des Datenbanksystems und Accent ACCESS Password Recovery stellt das Passwort blitzschnell rück.
Accent ACCESS Password Recovery ist ein bedingt kostenloses Erzeugnis (shareware). Nichtregistrierte Generation hat eine Beschränkung: die Maximallänge des rückstellten Passwortes ist 4 Symbole. Diese Beschränkung fehlt in der registrierten Generation. Der Registrierenpreis ist 25 Euro.

Beachten Sie unser universielles Erzeugnis Accent OFFICE Password Recovery für das Rückstellen verlorener und vergessener Passwörter zu den Microsoft Office-Dokumenten: Microsoft Access, Excel, Word.
Quickinfo
Die Generation: 2.10 2.10
! the program steps for recovering the Microsoft Access password of more than 15 symbols have been improved
Der Umfang: 643 Kb
Systeme:

Windows 10/8/7/Vista und frühere Windows Generationen.
Screenshots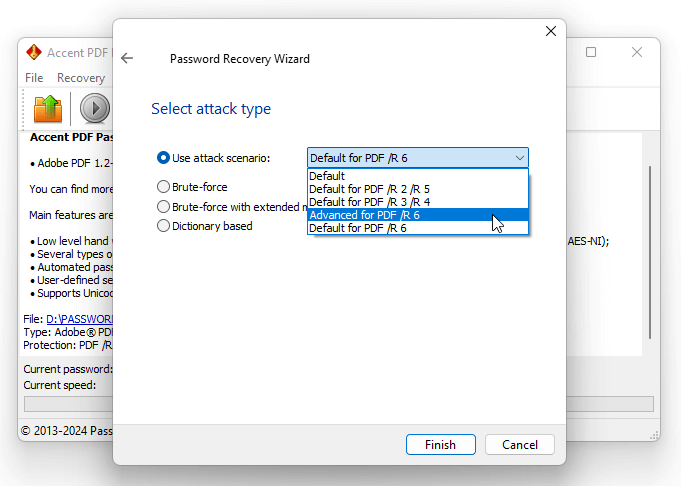 Hauptfenster Task Setup
Gebrauchsanweisung

Fastest Password Recovery. Dictionary Attack

Mehr Videos
Wissensbasis
Sozial
Partner