Accent EXCEL Password Recovery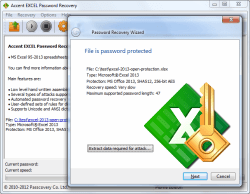 Accent EXCEL Password Recovery is the fast and easy way to restore lost passwords to files created in any version of Microsoft Excel. The program's unique optimization for Intel and AMD processors guarantees top-speed password recovery. And there's nothing to learn: the simple, functional Accent Excel Password Recovery interface does it all for you.


Accent EXCEL Password Recovery Benefits
Supports all versions of Microsoft Excel (from Excel 6/95 to Excel 2007/2010/2013)
Instantly deletes several types of passwords
Automatically recovers passwords using pre-installed scenarios
Includes macrolanguage for adding password mutation rules to dictionary attacks
Reduces password recovery time on all computers with Intel and AMD processors
Advantage: full version support and fast password deletion
Automated password recovery
The software evaluates your computer's configuration and performance in order to select a recovery scenario that balances recovery time and the number of passwords covered.
Advantage: quick start
Password mutation rules
AccentEPR comes with a built-in macrolanguage that lets you create password mutation rules for dictionary attacks. With this flexible feature, you can change the spelling of a password, add words and symbols, combine passwords from multiple dictionaries, and more! This approach cracks passwords like "pa55word" or "VeryStrongPassword1234" much faster than other options.
Advantage: flexible management of dictionary attacks
High-speed recovery
The highly optimized code in Accent EXCEL Password Recovery draws on the unique features and strengths specific to each Intel or AMD processor in order to fully leverage their potential and achieve top password recovery speeds. Put simply, program saves you significant time when recovering passwords.
Advantage: time savings
When you encounter the problem of a lost Microsoft Excel password, let AccentEPR fix it. You can be sure you're using the best solution available.

Licensing
The cost of the full version of Accent EXCEL Password Recovery depends on usage:
Microsoft Excel 95
Microsoft Excel 97-2003
Microsoft Excel 2007
Microsoft Excel 2010
Microsoft Excel 2013
Price

Home License
C
C
C
C
C
40 $

Business License
C
C
C
C
C
60 $
C

- CPU only


Home

- for home use ONLY /

Business

- for business use
An Accent EXCEL Password Recovery license gives the user:
An unlimited copy of the software (demo version displays only two first symbols in the password)
Free updates for one year
Free tech support
We provide a secure online payment. We accept credit cards via our secure online form, as well as by fax or phone. We also accept checks, PayPal, wire transfers and corporate purchase orders.



Accent EXCEL Password Recovery is a perfect solution to the problem of a lost Excel password. Yet we recommend using software that easily handles Microsoft Office 95 – 2013 and OpenOffice documents and also features GPU computing with AMD and NVIDIA graphic cards.
Learn more about the benefits of Accent OFFICE Password Recovery
Features
Full features list of Accent EXCEL Password Recovery, 7.91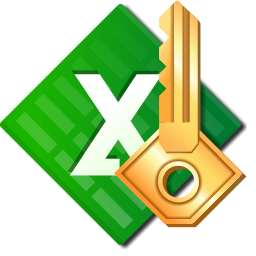 :
compatibility with Microsoft Excel 97, Excel 2000, Excel XP, Excel 2003, Excel 2007, Excel 2010 and Excel 2013
the program supports different password types:
password to open a document (with three attack types for successful recovery)
passwords to open sheets (instantly cracked)
password to modify (instant password recovery)
VBA password protecting a VBA project (instant VBA password recovery)
three attack types: Brute force attack, mask and dictionary-based attacks;
easy-to-use and user-friendly graphical interface;
operation under

Windows

7 and earlier Windows editions up to Windows 95.
stable

SecurityApplication

with

$40

USD

for Home License


User Ratings
See what people are saying about Accent EXCEL Password Recovery and share your own opinion.
an Anonymous Customer from the Canada::"这是一款非常好的软件。我可以在大约2小时内恢复我的密码。"
从印度一个匿名用户::"为恢复密码的软件很好用。谢谢!祝您好运!"
David Stojakovich (Hoeganaes Corporation) from the United States:"Accent Password Recovery for Excel truly works. I made an xlsm file as part of a work flow in SharePoint in July and for some reason I did not use my routine password. Now in October I went back to modify the file and realize I had totally forgotten what password I created. Thanks Passcovery your program saved my day!"
Julia Afanasyev from the Russia:"Thank you, the program helped me."
Narcis Castillo from the USA:"Excellent performance!"
Yusuf Peoples from the USA: "Accent Password recovery is awesome! My position was eliminated due to budget cuts, and I was laid off last week. I recently was asked to submit a copy of my resume asap, and I could not remember the password to access my resumes. With the use of this software I was able to recover my password protected document within seconds! I am 100 % satisfied with this product and recommend it."
Aaron Cash from the USA: "This program took less than 20 seconds to recover the sheet password. Thank you. You saved me many hours."
Randell Canady: "The new version of AccentEPR ran just fine on Windows 7. It was a long process, but it did recover the password that was set to open the file. I would recommend this software for anyone that needs an excel file password recovered. But a warning of the time should be made up front."
Edward Torres from the USA: "Thank you for helping me with my password issue with my 2010 Excel. It saved me many HOURS of recreating my work."
Pieter Swart from the Zuid-Afrika: "The best Excel password recovery software I evaluated. Super fast compared to other programs available and easy to use."
Martin Nappert from the France: "Great job guys, this worked and I recovered the lost password on my xlsx document. Case closed."
Rune Stenvall from the Sweden: "Excellent, reliable and fast. I can recommend this Product to everyone."
Total Scores: 5 stars with 11 reviews


Technical Support
Want to learn how to use Accent Password Recovery products? Find the answers here.
Our website contain a AccentEPR User's Manual. Please, learn it.
Have a suggestion, question or request about any of our software? Contact our Service Team for a rapid response.
* Service Team response times vary depending on request volume, the complexity of a given request and the time of day the request was received. We usually respond within 24 hours Monday through Friday, excluding weekends and holidays.
快速信息
Latest version: 7.91 October 13, 2016
!我们改进了支持有超过256个字符密码的词典
!我们进行了误差修正
大小: 7724 Kb
:

Windows 10/8/7/Vista and earlier versions of Windows
Screenshots


主窗口 设置
How to use

Password Recovery for Excel 95-2013


Decrypting Excel/Word Files with Accent OFFICE Password Recovery

More Videos
Social
知识库
奖状
Mike Chalbyshev, Russia: "It's a good product. It all depends on how powerful your rig is. Mine has a Xeon, and it was giving me 2.7 million selections per second. I could open WHATEVER I wanted." - about Accent EXCEL Password Recovery
合作伙伴