Accent OFFICE Password Recovery
Accent OFFICE Password Recovery is faster and more effective than ever at recovering and deleting passwords to all versions of Microsoft Office and OpenOffice files. Runs up to 40 faster with AMD(ATI) and NVIDIA graphics cards.
Key Advantages
Supports Microsoft Office 2-2013 and OpenOffice 1-4
Achieves top speed on all AMD and Intel processors
Searches up to 40 times* faster with AMD and NVIDIA graphics cards
Best performance for the price
Accent OFFICE Password Recovery supports all file formats created in Microsoft Office and OpenOffice and successfully recovers passwords to files created in any year.
AccentOPR delivers top password recovery speeds on any computer using uniquely optimized code to adapt to the strengths of Intel and AMD processors.
Accent OFFICE Password Recovery uses AMD and NVIDIA graphics cards to boost search speeds up to 40* times faster on each card. GPU technology helps recover passwords to open files created in Microsoft Office 2007/2010/2013 and any version of OpenOffice.
The power of modern GPUs and APUs gives an incredible performance boost, and their flexibility, scalability and affordability make AccentOPR the optimal solution for recovering lost passwords.
Accent OFFICE Password Recovery Key Features
Fully supports Microsoft Office and OpenOffice documents
Decrypts Excel and Word 97/2000 files — guaranteed access to your data
Works three ways, using brute force, mask and dictionary attacks
Automatically recovers passwords with predefined/user-defined scenarios
Includes macrolanguage for adding password mutation rules to dictionary attacks
Leverages GPU technology to recover passwords to files with the toughest encryption
Graphic interface is easy to use
Runs on Windows 8/7 and early Windows systems
Supported Formats and Password Types
Version
Password to open
Password to modify
VBA password
MS Access
6.0
•*
-
•*
97-2003
•*
-
•*
2007
C
-
-
2010
G
-
-
MS Excel
2-5
•*
•*
-
7
•*
•*
-
97-2003
C
•*
•*
2007
G
•*
•*
2010
G
•*
•*
2013
G*
-
•*
MS PowerPoint
XP-2003
C
•*
-
2007
G
•*
•*
2010
G
•*
•*
2013
G
•*
•*
MS Word
2-5
•*
-
-
6-95
•*
•*
•*
97-2003
C
•*
•*
2007
G
•*
•*
2010
G
•*
•*
2013
G*
•*
-
OpenOffice
1 - 4
G
-
-
•*

- instant recovery

•*

- instant removes

C

- CPU recovery

G

- GPU recovery

-

- not supported
Types of Attack
The program offers three types of attack for recovering passwords: brute force, mask and dictionary attacks. Each type of attack has its pros and cons (learn more). Different types of attack are available to increase success with lost passwords.
Decrypting Excel/Word Files
Guaranteed access to the data in Microsoft Excel/Microsoft Word 97/200 files (with 40-bit encryption). AccentOPR fully decrypts the password-protected file and creates an password-free copy. Know ahead of time how long it will take to find the decryption key, regardless of how long or complicated the file's password is. Learn more about decryption
Automated password recovery
The software evaluates computer's configuration and performance in order to select a recovery scenario that balances recovery time and the number of passwords covered.
Configurable password recovery scenarios
Experienced users can create their own recovery scenarios using a special feature of AccentOPR. Scenarios allow users to define a set of rules that are used by the program to search for the password and flexibly control the arrays of checked values.
Password mutation rules
AccentOPR comes with a built-in macrolanguage that lets you create password mutation rules for dictionary attacks. With this flexible feature, you can change the spelling of a password, add words and symbols, combine passwords from multiple dictionaries, and more! This approach cracks passwords like "pa55word" or "VeryStrongPassword1234" much faster than other options.
GPU Compatibility
Accent OFFICE Password Recovery is compatible with AMD(ATI) and NVIDIA graphics cards supporting NVIDIA CUDA and ATI Stream/OpenCL technology. In other words, software can run on all modern AMD(ATI) and NVIDIA graphics cards.
Easy to Use
Download the free demo version of AccentOPR and see how easy it is to recover even the most complex passwords to Microsoft Office/OpenOffice files:
Download demo version of Accent OFFICE Password Recovery
Licensing
The demo version of Accent OFFICE Password Recovery comes with a number of restrictions:
displays only two first symbols in the password
attacks cannot be run longer than for 30 minutes
not saves a Password Recovery Status file
uses only single GPU device
To gain unrestricted access to all of the features of the program, choose a license based on your needs and usage:
| | Home License | Business License |
| --- | --- | --- |
| Microsoft Office 95 | CPU | CPU |
| Microsoft Office 97-2003 | CPU | CPU |
| Microsoft Office 2007 | CPU | CPU |
| Microsoft Office 2010 | CPU | CPU |
| Microsoft Office 97-2013 | CPU | CPU |
| OpenOffice 1-4 | CPU | CPU |
| Unrestricted | ✔ | ✔ |
| 1 year of free updates | ✔ | ✔ |
| Free technical support | ✔ | ✔ |
| Personal home use (1 PC) | ✔ | ✘ |
| Corporate use (1 PC) | ✘ | ✔ |
| | Buy for $80 60 $ | Buy for $105 80 $ |
With an Accent OFFICE Password Recovery license you get:
Unrestricted access to all features
Free updates for one year
Free technical support
Payment is available via various online and offline methods. The full list of options depends on the region and is available on the order page. All transactions related to license purchases for software are secure and strictly confidential.


* Comparison was made of one Intel i7-860 processor and one AMD Radeon HD 5970 graphics card.
Features
Full features list of Accent OFFICE Password Recovery, 9.6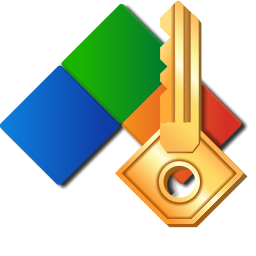 :
Supports Microsoft Access, Microsoft Word, Microsoft Excel and Microsoft PowerPoint files
Supports LibreOffice: Writer, Calc, Impress, Base, Draw, Math files
Leverages GPU to recover passwords up to 60 times faster than CPU alternatives
Supports NVIDIA graphics cards with CUDA technology (eighth generation GeForce graphics cards and later)
Supports AMD graphics cards with Stream/OpenCL technology (4XXX, 5XXX and 6XXX family AMD graphics cards)
Lets you use more than one graphics card on the same computer
Recovers a wide variety of passwords:

Password to open LibreOffice Writer (.odt, .ott), LibreOffice Calc (.ods, .sxc), LibreOffice Impress (.odp, .sxi), LibreOffice Base (.odt, .ott), LibreOffice Draw (.odg, .sxd), LibreOffice Math (.odf, .sxm) (choose from three types of attack for successful password recovery)
Passwords to open MS Excel (.xls, .xlsx), MS PowerPoint (.ppt, .pptx) and MS Word (.doc, .docx) files (choose from three types of attack for successful password recovery)
Microsoft Access (.mdb) passwords (instant password recovery)
Passwords to modify MS Excel and MS Word files (instant crack)
MS Excel spreadsheet passwords (instant crack)
VBA passwords in Microsoft Office files (instant VBA password crack)

Choose from three types of attack: brute force, mask and dictionary attacks
Graphic interface is easy to learn and use
Runs on

Windows

7 and earlier systems all the way back to Windows 95
Great

SecurityApplication

with

$60

USD

for Basic License

User Ratings
See what people are saying about Accent OFFICE Password Recovery and share your own opinion.
Jean Henri SANDILLON, France: "Bonjour,

Je cherchais une solution pour retrouver un mot de passe de protection d'un document Word, j'ai essayé plusieurs solutions proposées sur le Web (gratuites ET payantes) sans succès et même dans certains cas une mise en alerte sévère de l'Antivirus Bitdefender...

J'ai découvert hier "Accent Office Password Recovery" qui en mode gratuit m'a donné immédiatement les deux premiers caractères du password et en version payante m'a permis d'ouvrir mon document tout aussi rapidement sans polluer mon Pc.

Merci"
Steve Jones (SRCPA), USA: "Good program. Easy to load and use"
Patricia Skrzypietz, Portugal: "Thank you so much! The financial life of my company was all the files I changed the password and I forgot the combination. Not remember how many digits or password possessed or letters or numbers. The process took two days, but managed to recover the password. Was willing to pay a lot to have the password, however found this PERFECT program and with good price. Thank you !!! The program is excellent."
Peder Hersleb, United Kingdom: "Great service and a program that saves your bacon, lost without it....."
Manuel Gonzalez, Mexico: "El programa resolvió el problema en poco tiempo. Fue útil, eficaz y me solucionó lo que necesitaba. Lo recomiendo."
David DeSouza, United States: "The program worked just as advertised. The password was recovered within a few seconds."
Ricardo Hugo Livschitz (Diagrame Comunicación Integral), Argentina: "Excellent Product, I am very satisfied, I have solved a big problem."
Mark Morris (Aardvark Forensics Ltd), United Kingdom: "Does what it says on the tin."
Wally Smith (AAA Construction Ltd), United States: "Excellent - it did the job!"
Michael Kamens, United States: "I've used numerous password recovery programs in my career of 30+ years but Accent OFFICE Password Recovery application is by far the best one I've used. Most people don't want to spend the time to brute force the password, they just want to get in and either open the document or un-protect it. You can always change the password afterwords.

I was surprised at how fast it worked and especially that it allowed me to un-protect.

Great product that really works from a company that actually followed up to make sure I didn't have any issues.

I give you an A++++++ for product value and an A++++++++++++++++++++++ for customer support."
Rom Campos (Bravo Net Solutions): "Great software! I was able to retrieve an Excel 2010 lost password very quickly using a dictionary attack. I have tried other tools with no luck."
Jeff Yu: "It's an amazing software, and the speed for rar file is much more faster than I've used ever before."
Jean Werdefroy, Belgium: "In a few words: Great Application!!! You've saved me, thanks a lot!!!"
MJ Fick (Petanque Consultancy), South Africa: "Of the products I tried, this was the only one that delivered what was promised. Easy to use and super fast!"
Total Scores: 5 stars with 14 reviews

Technical Support
Want to learn how to use Accent Password Recovery products? Find the answers here.
Our website contain a AccentOPR User's Manual. Please, learn it.
Have a suggestion, question or request about any of our software? Contact our Service Team for a rapid response.
* Service Team response times vary depending on request volume, the complexity of a given request and the time of day the request was received. We usually respond within 24 hours Monday through Friday, excluding weekends and holidays.
Remove passwords for Excel/Word 97-2003
Delete passwords to open Microsoft Excel/Word files with AccessBack.com.
AccessBack.com is an online service offering guaranteed removal of passwords from any files created in Microsoft Excel/Word 97-2003 (files ending in .doc/.dot and .xls/.xla with 40-bit encryption).
The service uses rainbow table technology to run through encryption keys at light speed, decrypt the document and remove the password.
Results are guaranteed, regardless of how long or complex the original password.
Delete Excel/Word password with AccessBack.com
* While processing time depends on demand, we promise results in less than 24 hours from the time you upload your file.
Passcovery Suite
Looking for more? You need Passcovery Suite — a multi-format premium GPU password recovery tool.
Passcovery Suite supports:
Microsoft Office and OpenOffice documents
Zip and Rar archives
Apple iOS and Blackberry OS backups
encrypted TrueCrypt volumes
WPA/WPA2 handshakes
The software works on AMD/NVIDIA video cards and guarantees the highest possible password recovery speed on any computer.
Get more about Passcovery Suite
NB: Passcovery Suite uses a Office password recovery module and an interface that are identical to those used in AccentOPR.
Quick Info
Latest version: 9.6 (November 8, 2017)
+ instant removal of simple-protection passwords (passwords for workbooks, sheets, VBA passwords) from Microsoft Word files and Microsoft Excel 2013/16 spreadsheets
+ extended list of graphics cards based on the GPUs: NVIDIA GP100/NVIDIA GK210
+ a new option enables to delete cached encryption keys and passwords
! all the found bugs have been eliminated
Size: 10832 Kb - x86
12452 Kb - x64
Platform:

Windows 10/8/7/Vista and earlier versions of Windows
Technologies:



Screenshots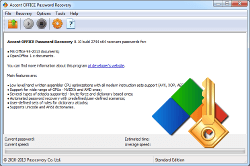 Main window Task Setup
Social
Knowledge base
Testimonials
R***, Germany: "Had to unscramble old zip-files nobody could help remembering the password(s). Tried other tools and software. Most satisfying results came with AZPR. Did a lot of good work." - about Accent ZIP Password Recovery
Partners