Accent PDF Password Recovery
Accent PDF Password Recovery is the efficient solution for recovering passwords for all of your Adobe PDFs. The software provides maximum search speed on all modern Intel/AMD processors and offers unique features for finding and removing PDF passwords.
Passcovery Suite
Looking for more? You need Passcovery Suite — a multi-format premium GPU password recovery tool.
Passcovery Suite supports:
Microsoft Office documents
OpenOffice documents
Adobe PDF documents
Zip and Rar archives
Apple iOS and Blackberry OS backups
encrypted TrueCrypt volumes
WPA/WPA2 handshakes
The software works on AMD/NVIDIA video cards and guarantees the highest possible password recovery speed on any computer.
Get more about Passcovery Suite
Quick Info
Version 1.5 October 12, 2018
! overall improvement of the internal structure
! increased stability
Size: 7332 Kb - x86
8552 Kb - x64
Platform:

Windows 10/8/7/Vista
Screenshots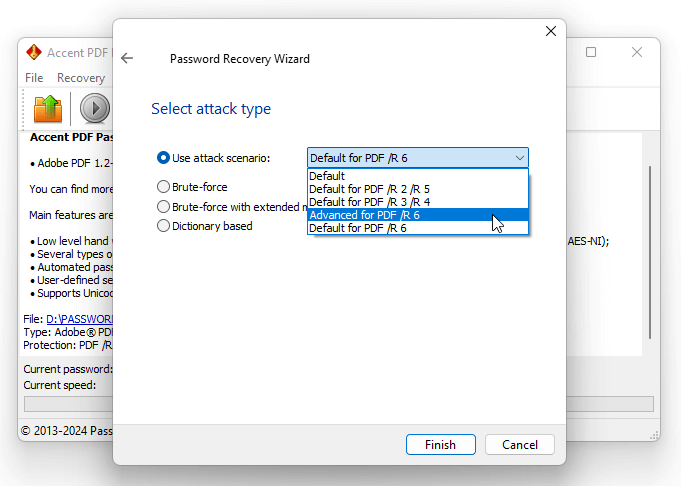 Main Window Settings
Social
Knowledge base
Testimonials
Mike Chalbyshev, Russia: "It's a good product. It all depends on how powerful your rig is. Mine has a Xeon, and it was giving me 2.7 million selections per second. I could open WHATEVER I wanted." - about Accent EXCEL Password Recovery
Partners