Accent PDF Password Recovery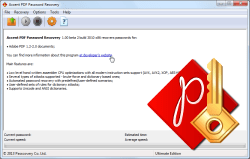 Accent PDF Password Recovery is the efficient solution for recovering passwords for all of your Adobe PDFs. The software provides maximum search speed on all modern Intel/AMD processors and offers unique features for finding and removing PDF passwords.
Key Advantages
Support for Adobe PDFs (Acrobat 1.0 to Acrobat DC)
Recovery of PDF passwords with speed guaranteed to amaze (details)
Saves time during password search thanks to unique features
Best ratio of price to performance
Accent PDF Password Recovery supports all versions of the Adobe PDF format, successfully recovering passwords from documents written yesterday and from documents created ten years ago.
The program's highly optimized source code is smart enough to know the strengths and special features of Intel and AMD processors, guaranteeing that it is a blazing-fast way to find PDF passwords on any computer.
By carefully tweaking the password space (the range of potential passwords to try), you can exclude massive ranges of potential passwords from scanning and speed up the process considerably.
The program's speed – giving some of the fastest results ever, according to testing results – and ability to restrict the password space make Accent PDF Password Recovery the best solution for finding lost passwords for PDFs.
Quick PDF password recovery with AccentPPR
Here's a video tutorial on everything you can do with Accent PDF Password Recovery and how easy it is:
Key Accent PDF Password Recovery features
Completely supports all Adobe PDF versions
Three types of attacks: brute force, attack by mask, attack by dictionary
Instant decryption for Adobe PDF documents created in Adobe Acrobat 2–4
Includes scripts for automatically recovering passwords
Allow advanced configuration of masks for brute force attacks
Supports macros to describe mutation rules for dictionary-based attacks
Streamlined, easy-to-use interface
Works on

Windows

11/10 and earlier versions of Windows
Supported Formats and Password Types
Adobe PDF
Versions:
Acrobat 2-4 (RC4 40-bit)
Acrobat 5-8 (

RC4 128-bit, AES-128

)
Acrobat 9-DC (AES-256)
Document open password:
C
C
C
Encryption key searching:
C
•
•
Permissions password:
•*
•*
•**

•*

- instant recovery

C

- CPU recovery

•

- not supported
Diverse attacks
Accent PDF Password Recovery offers three methods for password recovery: brute force, attack by mask, and attack by dictionary. Each attack has plusses and minuses. Depending on the situation these types of attacks will have different success rates.
PDF decryption
AccentPPR rescues your data that has been encrypted in PDFs in Adobe Acrobat 2–4 format (40-bit encryption). The program simply decrypts the password-protected file and creates an exact copy that does not have the password. The time needed to find the decryption key is always the same – it does not depend on the length or complexity of the original password.
Automatic password search
A special feature for beginners. The program evaluates the computer's configuration and performance to automatically select the script that best balances search time and the number of passwords to try.
Advanced masking for brute force attacks
A special feature for professionals. The advanced mask support built into the program adds new features for creating sophisticated masks that can verify passwords and save time by omitting unneeded potential password candidates.
Macro language
A special feature for professionals. The built-in macro language describes the rules for mutating the passwords tried in dictionary-based attacks. This changes the shape and appearance of passwords, adding words and characters, combining passwords from several dictionaries, etc. Unusual passwords such as "pa55word" and "VeryStrongPassword1234" are found much more quickly.
Easy to use
You can download a Demo of AccentPPR right now free of charge. To try out the program and see how easily it can recover lost Adobe PDF passwords, visit:
Licensing
The demo version of Accent PDF Password Recovery comes with a number of restrictions:
displays only two first symbols in the password
attacks cannot be run longer than for 30 minutes
not saves a Password Recovery Status file
To gain unrestricted access to all of the features of the program, choose a license based on your needs and usage:
| | Home License | Business License |
| --- | --- | --- |
| Adobe PDF 1.1 - 1.3 (Acrobat 2-4) | CPU | CPU |
| Adobe PDF 1.4 - 1.6 (Acrobat 5-7) | CPU | CPU |
| Adobe PDF 1.7 EL3, EL5, EL8 (Acrobat 9-DC) | CPU | CPU |
| Unrestricted | ✔ | ✔ |
| 1 year of free updates | ✔ | ✔ |
| Free technical support | ✔ | ✔ |
| Personal home use (1 PC) | ✔ | ✘ |
| Corporate use (1 PC) | ✘ | ✔ |
| | | |
With an Accent PDF Password Recovery license you get:
Unrestricted access to all features
Free updates for one year
Free technical support
Payment is available via various online and offline methods. The full list of options depends on the region and is available on the order page. All transactions related to license purchases for software are secure and strictly confidential.

AccentPPR features
All of the features you can find in Accent PDF Password Recovery, 23.03
:
Support for all Adobe PDF versions
Support for diverse password types:
Finds the Open password ("user password") for PDFs
Finds the Permission password ("master password") for PDFs
Decrypts documents with 40-bit encryption (Adobe Acrobat 2–4)
Three attack types: brute force, attack by mask, attack by dictionary
Automatic password recovery mode operates based on preset scripts
Advanced masking can generate passwords during brute force attacks
Built-in macro language for creating password mutation rules to be applied during dictionary attacks
Built-in Rule Editor for easy visual editing of mutation rules
Convenient, easy-to-learn interface
Both GUI and command-line interfaces (CLI) included
Great

SecurityApplication

with $

40

USD

for Home License
Compatible with Windows 11 and earlier versions, all the way back to Windows XP
User Ratings
Be the first! of Accent PDF Password Recovery and we will post it here:

Technical Support
Want to learn how to use our password recovery products? Find .
Our website contain a . Please, learn it.
Have a suggestion, question or request about any of our software? Contact our Service Team for a rapid response.
* Service Team response times vary depending on request volume, the complexity of a given request and the time of day the request was received. We usually respond within 24 hours Monday through Friday, excluding weekends and holidays.
Passcovery Suite
Looking for more? You need Passcovery Suite — a multi-format premium GPU password recovery tool.
Passcovery Suite supports:
Microsoft Office documents
OpenOffice/LibreOffice documents
Adobe PDF documents
Zip and RAR archives
Apple iOS and Blackberry OS backups
encrypted TrueCrypt volumes
WPA/WPA2 handshakes
The software works on AMD/NVIDIA video cards and guarantees the highest possible password recovery speed on any computer.
NB: Passcovery Suite uses a PDF password recovery module and an interface that are identical to those used in AccentPPR.
Quick Info
Version 23.03 March 1, 2023
• internal code enhancements
• full Windows 11 compatibility
Size: x64 – 8220 Kb
Platform:

Windows 11/10/8/7
Screenshots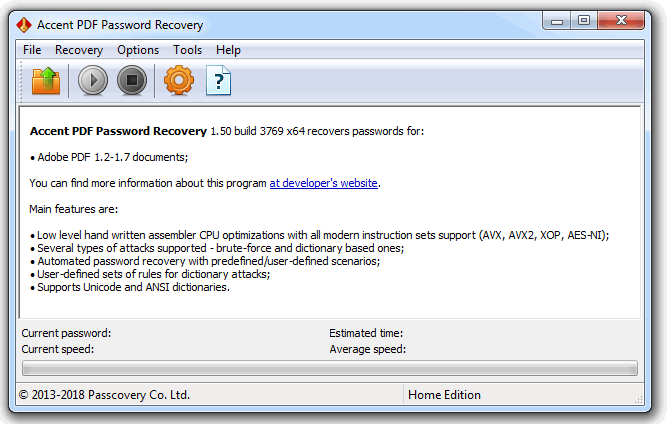 Main window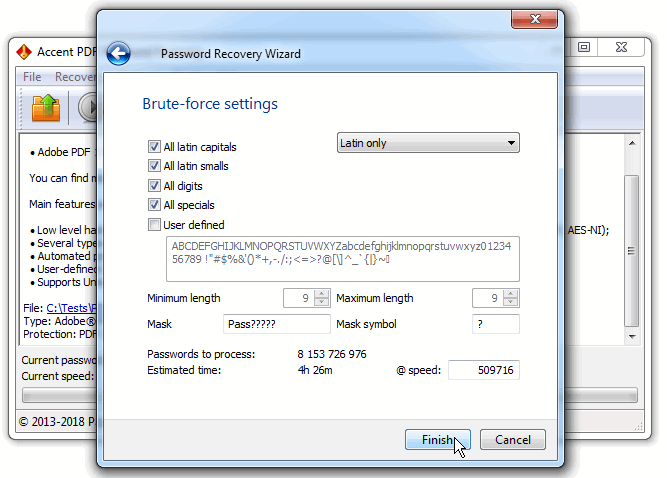 Task Setup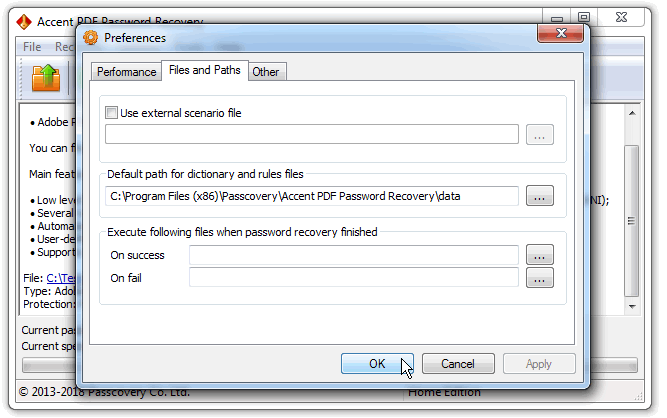 Program settings
Official AccentPPR logo
Knowledge base
Follow us
Partners