Accent EXCEL Password Recovery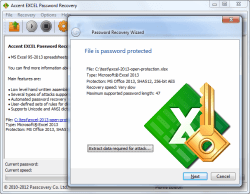 Let Accent EXCEL Password Recovery is the fast and easy way to restore lost passwords to files created in any version of Microsoft Excel. The program's unique optimization for Intel and AMD processors guarantees top-speed password recovery. And there's nothing to learn: the simple, functional Accent Excel Password Recovery interface does it all for you.


Accent EXCEL Password Recovery Benefits
Supports all versions of Microsoft Excel (from Excel 6/95 to Excel 2007/2010/2013)
Instantly deletes several types of passwords
Automatically recovers passwords using pre-installed scenarios
Includes macrolanguage for adding password mutation rules to dictionary attacks
Reduces password recovery time on all computers with Intel and AMD processors
Supported Formats and Password Types
Versions:
Password to open:
Password to modify:
VBA Password:

Microsoft Excel
6.0
97-2003
2007
2010
2013
•*
C
C
C
C
•*
•*
•**
•**
•**
•*
•*
•**
•**
•**
•*

- instant recovery

•**

- instant removes

C

- CPU recovery

•

- not supported
Advantage: full version support and fast password deletion
Automated password recovery
The software evaluates your computer's configuration and performance in order to select a recovery scenario that balances recovery time and the number of passwords covered.
Advantage: quick start
Password mutation rules
AccentEPR comes with a built-in macrolanguage that lets you create password mutation rules for dictionary attacks. With this flexible feature, you can change the spelling of a password, add words and symbols, combine passwords from multiple dictionaries, and more! This approach cracks passwords like "pa55word" or "VeryStrongPassword1234" much faster than other options.
Advantage: flexible management of dictionary attacks
High-speed recovery
The highly optimized code in Accent EXCEL Password Recovery draws on the unique features and strengths specific to each Intel or AMD processor in order to fully leverage their potential and achieve top password recovery speeds. Put simply, program saves you significant time when recovering passwords.
Advantage: time savings
When you encounter the problem of a lost Microsoft Excel password, let AccentEPR fix it. You can be sure you're using the best solution available.

Licensing
The cost of the full version of Accent EXCEL Password Recovery depends on usage:
Microsoft Excel 95
Microsoft Excel 97-2003
Microsoft Excel 2007
Microsoft Excel 2010
Microsoft Excel 2013
Price

Home License
C
C
C
C
C
40 $

Business License
C
C
C
C
C
60 $
C

- CPU only


Home

- for home use ONLY /

Business

- for business use
An Accent EXCEL Password Recovery license gives the user:
An unlimited copy of the software (demo version displays only two first symbols in the password)
Free updates for one year
Free tech support
We provide a secure online payment. We accept credit cards via our secure online form, as well as by fax or phone. We also accept checks, PayPal, wire transfers and corporate purchase orders.



Accent EXCEL Password Recovery is a perfect solution to the problem of a lost Excel password. Yet we recommend using software that easily handles Microsoft Office 95 – 2013 and OpenOffice documents and also features GPU computing with AMD and NVIDIA graphic cards.
Learn more about the benefits of Accent OFFICE Password Recovery
Features
Full features list of Accent EXCEL Password Recovery:
compatibility with Microsoft Excel 97, Excel 2000, Excel XP, Excel 2003, Excel 2007, Excel 2010 and Excel 2013
the program supports different password types:
password to open a document (with three attack types for successful recovery)
passwords to open sheets (instantly cracked)
password to modify (instant password recovery)
VBA password protecting a VBA project (instant VBA password recovery)
three attack types: Brute force attack, mask and dictionary-based attacks;
easy-to-use and user-friendly graphical interface;
operation under Windows 7 and earlier Windows editions up to Windows 95.


User Ratings
See what people are saying about our products and share your own opinion.
Madeleine Sann (Philadelphia, Pennsylvania): "Thank you thank you thank you. I stupidly password protected a document without keeping a copy that wasn't protected and no one in the family could remember the password. Accentsoft broke the password for me - this document represented endless hours of work by my daughter in law and me. Thank you so much." - said about AccentOPR
Cash Aaron:"This program took less than 20 seconds to recover the sheet password. Thank you. You saved me many hours."
Nash Collins:"The software is excellent. it works 100% I was just uncluttering my system."
Customer about AccentEPR:"I needed it for one file only. It found password for me. my problem is solved :)"


Technical Support
Want to learn how to use Accent Password Recovery products? Find the answers here.
Our website contain a AccentEPR User's Manual. Please, learn it.
Have a suggestion, question or request about any of our software? Contact our Service Team for a rapid response.
* Service Team response times vary depending on request volume, the complexity of a given request and the time of day the request was received. We usually respond within 24 hours Monday through Friday, excluding weekends and holidays.
Quick Info
Latest version: 7.1 May 8, 2013
+ New easy-to-use Password Mutation Rules Editor
+ Added Chinese localization
Size: 7356 Kb
:

Windows 7/Vista and earlier versions of Windows
Solutions
Screenshots


Main window Task Setup
Google+
How to use
Partners