Passcovery Releases Accent OFFICE Password Recovery 9.7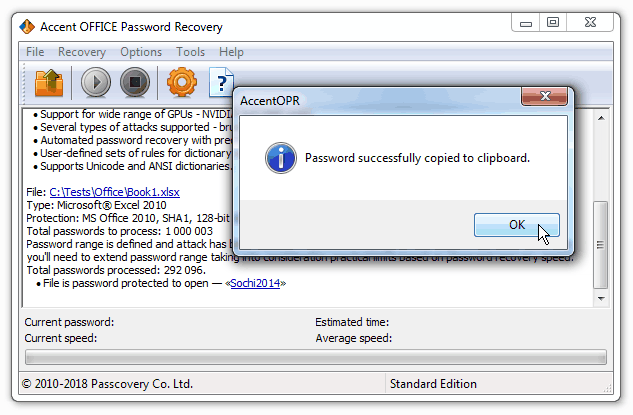 Accent OFFICE Password Recovery (AccentOPR) is a Windows program with GPU acceleration on NVIDIA/AMD graphics cards to recover passwords of Microsoft Office/OpenOffice/LibreOffice documents. Due to its advanced range customization options and consistent high speed, the program is considered one of the most effective password recovery tools.
The internal algorithms of AccentOPR 9.7 were modified and additionally optimized. That has increased the searching speed and improved compatibility of the program with Microsoft Office/LibreOffice file formats.
What's new in Accent OFFICE Password Recovery 9.7:
Increased speed of password recovery on graphics cards (especially on NVIDIA) – extra optimization of execution kernels of all GPUs
New graphics cards supported: NVIDIA Tesla V100, GeForce RTX 20x0 and AMD Vega – the newly-added kernels enable these GPUs
Perceptible acceleration of searching passwords of Microsoft Office 2013 on graphics cards – improved handling of SHA-512 hashing algorithm used in Office 2013 (plus optimization of GPU kernels)
Accelerated searching for 40-bit encryption key of Office 97-2003 on a greater number of AMD graphics cards – new GPU kernels have been added to enable search of encryption keys on GPUs with AMD VLIW4/5 architecture
Improved handling of ODF 1.2 LibreOffice files – the program now easily handles files with AES 256-bit encryption and a greater number of iterations
Improved support for Microsoft Office 2013 documents – the program now supports files with a non-standard internal structure (also supported by AccentEPR and AccentWPR)
Improved stability and overall quality of the program internal structure — a pack of minor improvements and fixes has been made (also supported by AccentEPR and AccentWPR)
Download Free Accent OFFICE Password Recovery 9.7 Demo Read the License Terms
The free demo version has no restrictions as to the speed of password scanning and offers full-blown range customization functionality: GPU acceleration, extended mask and dictionary mutation — all that is available in the demo version.
The free demo runs on a limited number of GPUs (1 device) and displays only the first two characters of the found password.
AccentOPR is a professional solution to recover passwords of office applications. The program runs with GPU acceleration on AMD/NVIDIA graphics cards and supports wide options for range customization that helps reduce scanning time to the minimum.
Here are the benefits of Accent OFFICE Password Recovery:
Searching speed. The program is ideally optimized for maximum speed of scanning on any modern CPU and GPU
Range customization. The program offers effective tools to cut off unnecessary checks and save time on scanning:
Supported formats. The program successfully handles Microsoft Office/OpenOffice/LibreOffice files of all versions.
Additionally…
Accent EXCEL Password Recovery
AccentEPR is a light version of AccentOPR for recovering passwords of Microsoft Excel tables. It works ONLY with Microsoft Excel files, DOESN'T support GPU-enabled acceleration, but offers all the range customization functions.
Accent EXCEL Password Recovery version 7.93 is out now.
Read more…
Accent WORD Password Recovery 7.93
AccentWPR is a simplified edition of AccentOPR. That version handles only Microsoft Word documents and can't be accelerated on graphics cards. However, it gives you all the range customization options.
Accent WORD Password Recovery 7.93 is out now.
Read more…
About Passcovery
Passcovery is a supplier of high-speed professional software solutions for recovery of lost passwords, the first versions of which appeared in 1999. Today our solutions are successfully applied in investigational and state agencies, and in corporate and in-home sectors worldwide.
Social
Knowledge base
Partners