Accent PDF Password Recovery – your solution to lost PDF passwords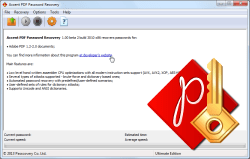 Accent PDF Password Recovery – a high-speed tool to find and remove PDF passwords of Adobe PDF files of all versions.
With AccentPPR you get perfect time saving features, such as high-speed performance and unique range customization options.
Cut off unnecessary scanning and use the maximum speed of your computer.
Problems with PDF passwords
If you can neither copy, edit nor print text of a PDF document due to file restrictions…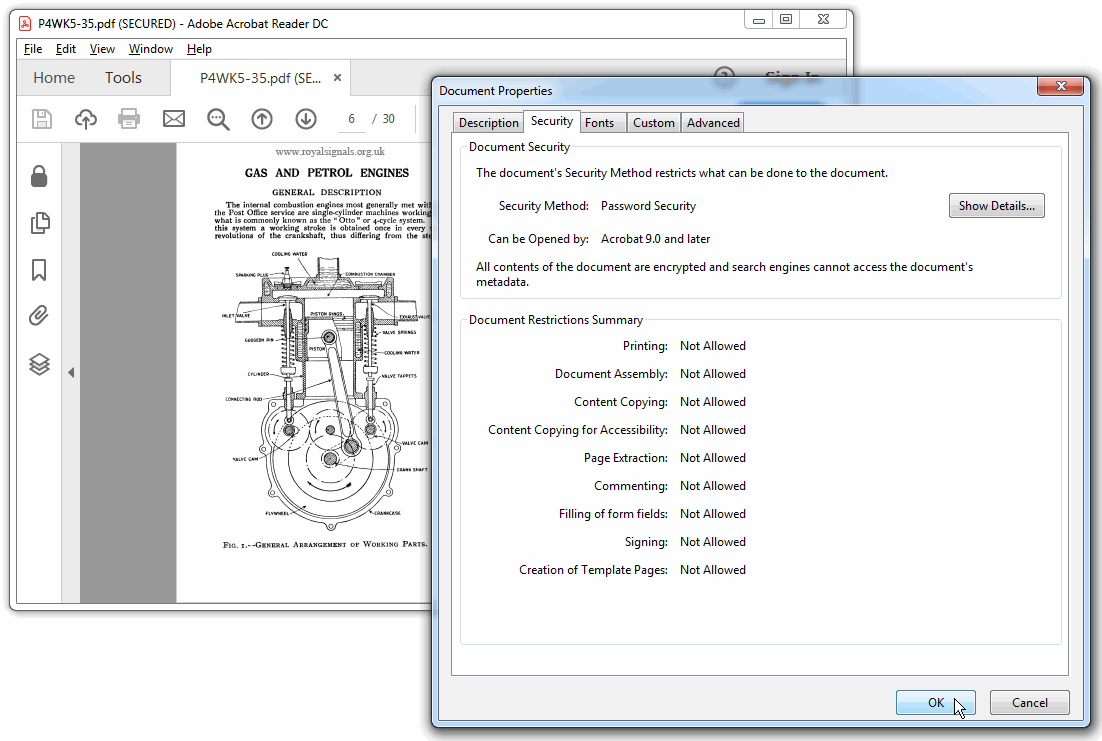 Or, if you can't type the password in the PDF password box because it seems to have slipped your mind…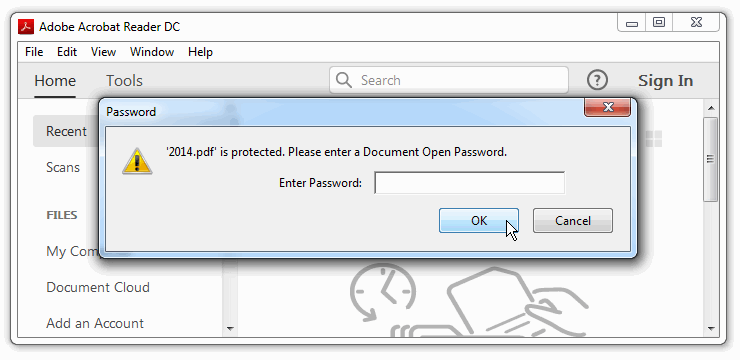 Then you definitely need this program. Accent PDF Password Recovery successfully solves problems with lost passwords of any PDF file.
Password recovery with Accent PDF Password Recovery
Security settings of Adobe PDF offer two types of passwords:
Permissions password (also known as a Master password) limits access to a document by restricting certain features but you can still open and view it
A Document Open password (also known as a User password) blocks access to data completely and requires a user to type a password to open the PDF.
Accent PDF Password Recovery handles both types of protection, but the methods to remove each type of password are different.
The program can instantly remove a Permissions password, that is immediately after opening a PDF file in the program. The program will create a decrypted copy of the original document without password protection. That works out for all versions of PDF format.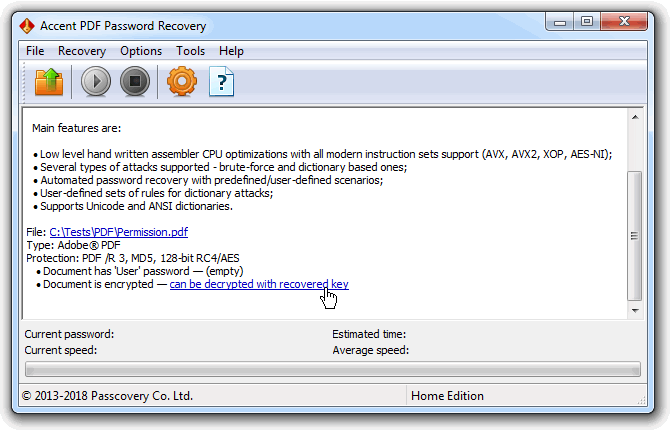 However, it is impossible to instantly find or remove a Document Open password. You can only recover it, that is find it through a brute force attack. AccentPPR employs maximum CPU power of any PC and guarantees brute forcing at full speed.
As soon as you run a file in the program, you will see description of the enabled security options. The program will then offer you to choose a password attack – a method of generating passwords to be tested: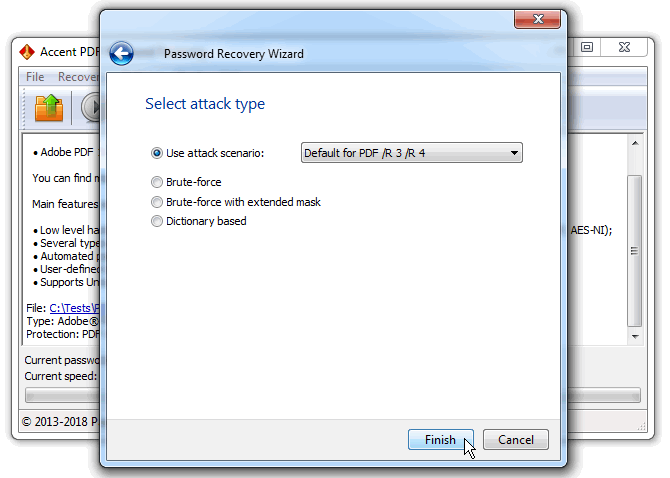 Accent PDF Password Recovery offers three types of password attacks:
brute force attack – systematic checking of all possible passwords and passphrases from a given range
brute force attack with extended mask – a method that consists in generating and checking data values individually for each position in a password (see examples)
dictionary attack – a form of brute force attack that consists in running through a set of dictionaries by trying each entry and modifying it on-the-fly (up to 4 dictionaries can be linked up simultaneously)
Select an attack, make the necessary settings and run the search. Accent PDF Password Recovery will check all values from the specified range, and when it finds the "Document open password", you will see it on screen: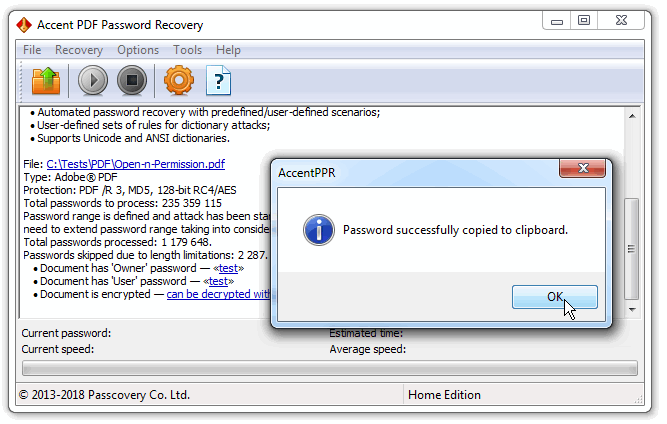 Read more about Accent PDF Password Recovery settings and password attacks, as well as tweaks and tricks in the help file and in the "Practice" section of our Knowledge Base.
NB: You can only expect successful recovery of a "Document open password" if this password is in the specified range of values. If the password has not been found or brute force attack is taking too much time, then try customizing your range, select a different attack or change the settings.
Try before you buy
AccentPPR – is a commercial program with a free trial version. In the trial version, there are no restrictions on the speed of searching PDF passwords nor range customization options.
The trial version lets you fully familiarize yourself with the program, explore its capabilities and see if it can help you unlock your PDF file.
Accent PDF Password Recovery Features
Supported Formats and Password Types
Adobe PDF
Versions:
Acrobat 2-4 (RC4 40-bit)
Acrobat 5-8 (

RC4 128-bit, AES-128

)
Acrobat 9-DC (AES-256)
Document open password:
C
C
C
Encryption key searching:
C
•
•
Permissions password:
•*
•*
•**

•*

- instant recovery

C

- CPU recovery

•

- not supported
AccentPPR Benefits
Prioritizing of processes
Priority settings over other system processes
Gluing together dictionaries
Mixing up to 4 dictionaries simultaneously
Mutation rules editor
Creating mutation rules with a visual editor
Ready-made scenarios
Pre-configured password attack sequences
Custom scenarios
Create your own attack sequences
Password caching
Storing all previously found passwords
Search status
Saving search settings and status to enable restart from the point you stopped
Action to run upon completion of search
Schedule an action (program/sound/etc.) to run upon successful and failed search
User interfaces
Executable both in graphical interface and in command line (GUI/CLI)
32/64 bit
Separate installation packages for Windows x86/x64
Localization
Graphical interface is available in eight languages
Unification
All Passcovery applications have the same interface and configuration
20-year history
The first versions of Accent Password Recovery software appeared in 1999
Secure application
Installation packages are digitally signed and clean from viruses and malware
Reliable company
Passcovery is an officially registered company with more than ten-year history
Licensing
The demo version of Accent PDF Password Recovery comes with a number of restrictions:
displays only two first symbols in the password
attacks cannot be run longer than for 30 minutes
not saves a Password Recovery Status file
To gain unrestricted access to all of the features of the program, choose a license based on your needs and usage:
| | Home License | Business License |
| --- | --- | --- |
| Adobe PDF 1.1 - 1.3 (Acrobat 2-4) | CPU | CPU |
| Adobe PDF 1.4 - 1.6 (Acrobat 5-7) | CPU | CPU |
| Adobe PDF 1.7 EL3, EL5, EL8 (Acrobat 9-DC) | CPU | CPU |
| Unrestricted | ✔ | ✔ |
| 1 year of free updates | ✔ | ✔ |
| Free technical support | ✔ | ✔ |
| Personal home use (1 PC) | ✔ | ✘ |
| Corporate use (1 PC) | ✘ | ✔ |
| | | |
With an Accent PDF Password Recovery license you get:
Unrestricted access to all features
Free updates for one year
Free technical support
Payment is available via various online and offline methods. The full list of options depends on the region and is available on the order page. All transactions related to license purchases for software are secure and strictly confidential.

Quick Info
Version 23.03 March 1, 2023
• internal code enhancements
• full Windows 11 compatibility
Size: x64 – 8220 Kb
Platform:

Windows 11/10/8/7
Screenshots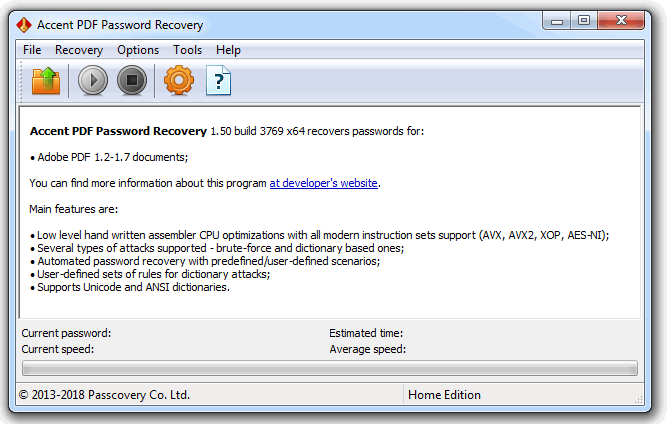 Main window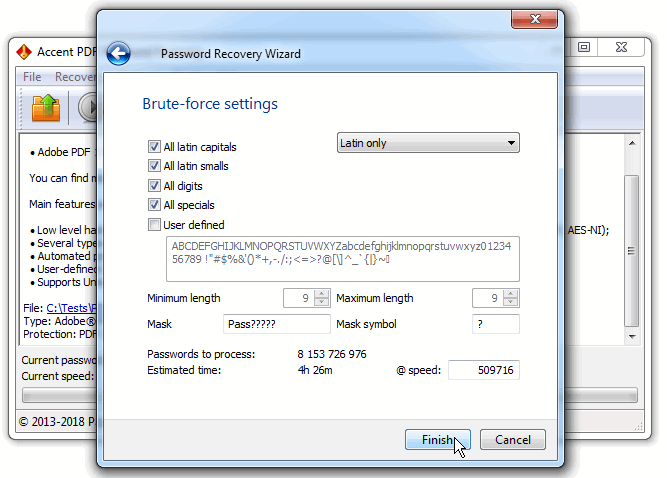 Task Setup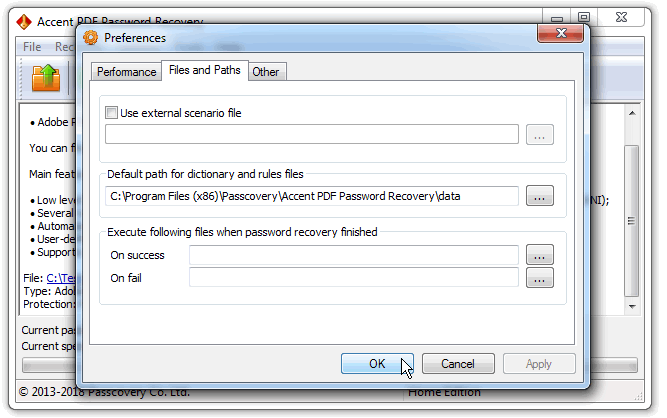 Program settings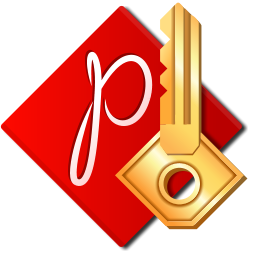 Official AccentPPR logo
Knowledge base
Follow us
Partners