Passcovery Updates a Family of Programs For Password Recovery on Videocards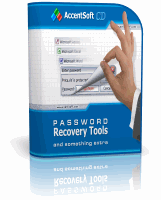 Saint-Petersburg, Russia (November 2016) – Passcovery, supplier of high-speed password recovery solutions for files in popular formats, presents an updated family of programs, with an expanded list of supported videocards. Passcovery's innnovations recover permanent passwords using NVIDIA videocards with the Pascal architecture and AMD's entire GCN family.
---
With the issuance of new videocards from NVIDIA and AMD, a key feature of Passcovery products – high password search speed on CPUs and GPUs – naturally launched a wave of program updates for recovery of permanent passwords on GPUs.
The result was massive program updates from Passcovery. We are offering:
Accent PDF Password Recovery, 1.4 for Adobe PDF
Accent EXCEL Password Recovery, 7.91 for Microsoft Excel
Accent WORD Password Recovery, 7.91 for Microsoft Word
Accent OFFICE Password Recovery, 9.5 for Microsoft Office/OpenOffice
Accent RAR Password Recovery, 3.6 for Rar3/Rar5
Accent ZIP Password Recovery, 4.95 for Zip/WinZip AES
Passcovery Suite, 3.4 for Microsoft Office/OpenOffice/PDF, Zip/Rar, Apple iOS/Blackberry OS, TrueCrypt, WPA/WPA2
The company's programs increased operational qualities and removed any detected errors.
The chief innovation was expansion of the range of supported videocards: the search for permanent passwords is conducted on all modern NVIDIA and AMD videocards, including NVIDIA Pascal and AMD Ellesmere/Baffin.
Password recovery on GPU
Videocards today are the best choice for password recovery of permanent security for many popular formats. Due to the large number of streaming processors, GPUs provide explosive acceleration of password search. The best of them can increase speed by factors of ten compared to a classical search on a CPU.
Password recovery on GPU is available on these videocards:
NVIDIA with CUDA technology (NVIDIA GeForce, eighth generation and above)
AMD with Stream/OpenCL technology (AMD Radeon HD 4XXX and above)
Thus, the best GPUs for a password recovery task are game videocards, rather than the NVIDIA Tesla/AMD FirePro professional lines.
Passcovery's programs use videocards for password search for files of many popular formats: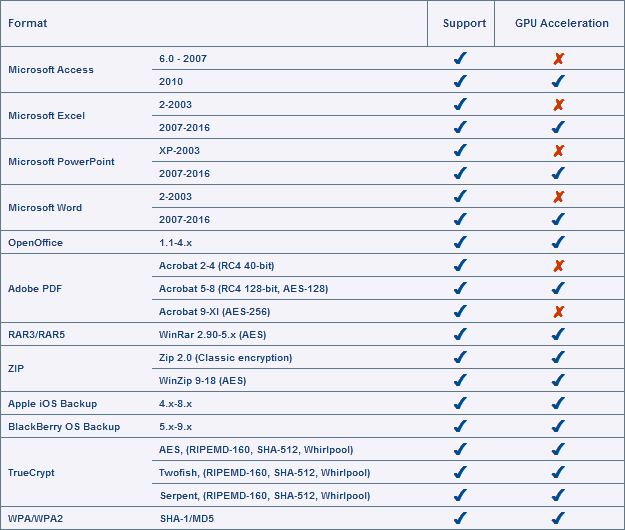 Speed ratings
Estimating system throughput from the point of view of password recovery is possible directly by means of Passcovery's programs – demoversions for Windows x86/x64 are freely accessible on the company sites, and any restrictions in them do not involve the password search speed itself.
In addition to direct "verification under fire", the company's flagship product – Passcovery Suite – has a built-in tool to calculate throughput when operating on files of 14 different formats: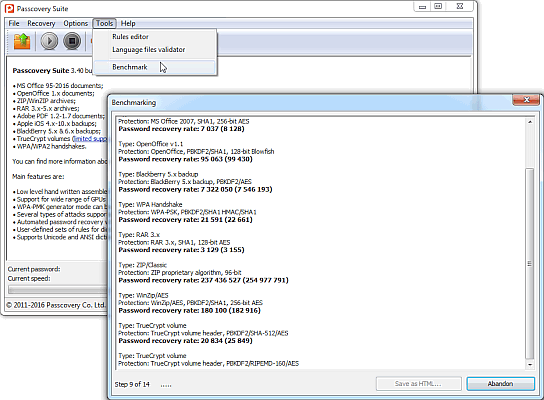 About Passcovery
Passcovery is a supplier of high-speed professional software solutions for recovery of lost passwords, the first versions of which appeared in 1999. Today our solutions are successfully applied in investigational and state agencies, and in corporate and in-home sectors worldwide.
Company's homepage: passcovery.ru

Products homepage: passwordrecoverytools.com

NVIDIA/AMD GPU Performance: here
EDITORS: For review copies, special offers or additional materials on any of our products, please contact our manager.
News&Releases
Passcovery update 23.01 is out now: NVIDIA GeForce RTX 40/AMD RX 7000, advanced GPU acceleration and other benefits The new release brings an updated line of Windows programs for password recovery supporting GPU acceleration. What has been added is support for the latest families of graphics cards, improved password recovery on the highest end GPUs and boosted brute force attack on passwords with SHA512 encryption algorithms. 02.03.23
Knowledge base
Follow us
Partners