Accent ZIP Password Recovery 5 is Out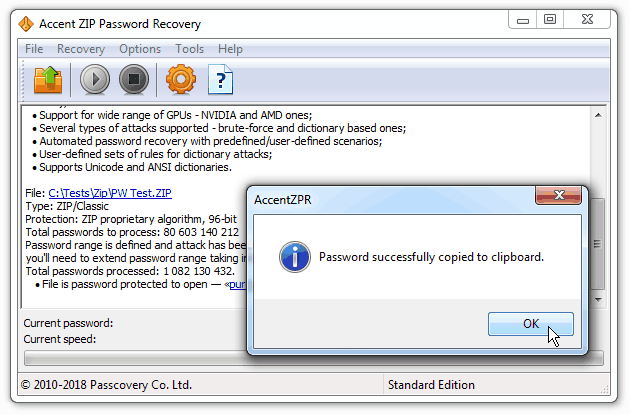 Accent ZIP Password Recovery (AccentZPR) is a highly-efficient GPU-accelerated software solution that runs on AMD/NVIDIA graphics cards and recovers passwords of zip archives with classic and WinZip AES encryption. The program offers excellent range customization options and allows to hugely reduce search time.
What's new in Accent ZIP Password Recovery 5:
A perceptible increase of speed on all AMD/NVIDIA graphics cards due to further optimization and rework of control and executive modules that enable GPU acceleration.
GPU-accelerated recovery of Zip passwords on NVIDIA Tesla V100, GeForce RTX 20x0 and AMD Vega graphics cards – new execution kernels were added to extend the number of supported graphics cards
A pack of minor improvements and fixes has been made which improved stability and overall quality of the program's internal structure.
Download Accent ZIP Password Recovery 5 Demo Read the License Terms
The free demo version has no restrictions as to the speed of password scanning and offers full-blown range customization functionality. The demo version employs one GPU device in the system and displays only the first two characters of the found password.
Supported Formats and Password Types
Protection
Classic (ZIP 2.0)
AES (WinZIP 9+)
Compression
Standard
(stored, deflate, deflate64)
Advanced
(PPMd, WavPack, etc.)
Standard
(stored, deflate, deflate64)
Advanced
(PPMd, WavPack, etc.)
Password to open:
C/G
—
C/G
C/G

C

- CPU recovery

G

- GPU recovery
Thanks to adaptive range customization options and ever-speedy brute force Accent ZIP Password Recovery guarantees successful recovery of zip passwords.
All that takes the program to the league of the best solutions to recover lost or forgotten zip passwords.
Read more…
About Passcovery
Passcovery is a supplier of high-speed professional software solutions for recovery of lost passwords, the first versions of which appeared in 1999. Today our solutions are successfully applied in investigational and state agencies, and in corporate and in-home sectors worldwide.
Quick Info
Version 23.03 от 2 Марта 2023
Supporting NVIDIA® GeForce RTX™ 40 family of video cards (Ada Lovelace architecture)
Supporting GPU and APU of AMD Radeon™ RX 7000 series (RDNA™ 3 architecture)
Improved compatibility with the highest end (maximum performance) GPUs from AMD and NVIDIA
Size: x64 – Kb
Platform:

Windows 11/10 and earlier versions of Windows
GPU technologies: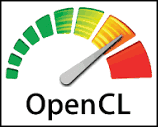 Screenshots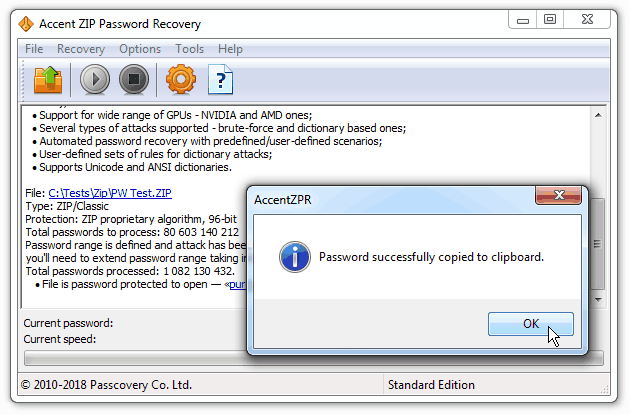 Main window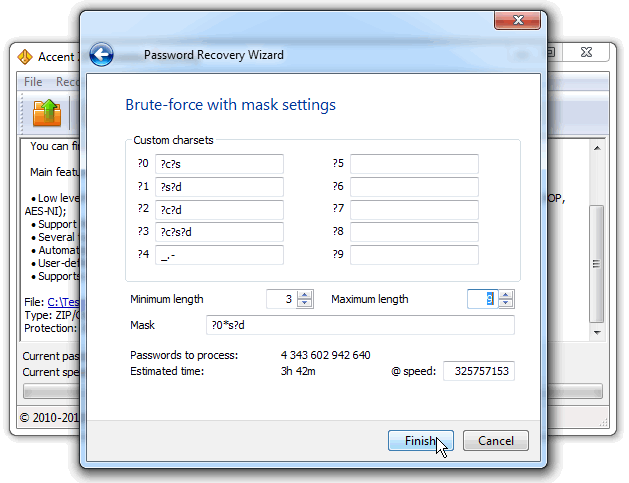 Extended (position) mask settings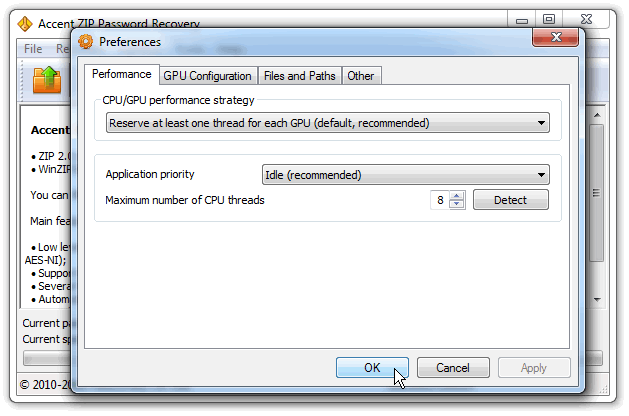 Program settings
Knowledge base
Follow us
Partners