Passcovery Completes the Big October Update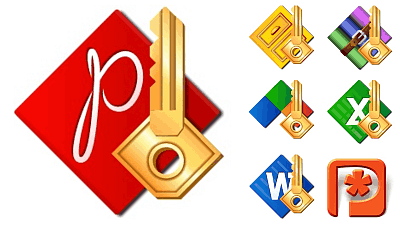 Passcovery is a Russian developer of highly efficient solutions with acceleration on NVIDIA/AMD graphics cards for recovery of passwords of popular file formats.

The company was founded in 2008 in St. Petersburg, Russia. The software products that are marketed by the company now, were first released in 1999. Over all this time Passcovery solutions have proved to be highly efficient and have won universal acclaim of users all around the world.
Today we present a big update of the entire suite of password recovery programs:
What's new in October update:
Accelerated speed of password recovery on GPUs (especially NVIDIA) due to extra optimization of execution kernels of all GPUs
Compatibility with NVIDIA Tesla V100, GeForce RTX 20x0 and AMD Vega due to newly-added executive kernels for GPU
Improved implementation of the SHA-512 hashing algorithm. That allowed to boost the speed to recover passwords of Microsoft Office 2013 files and TrueCrypt volumes with the hashing algorithm (on some NVIDIA graphics cards the speed increases by several times).
Implemented GPU acceleration to enable searching of a 40-bit encryption key for Microsoft Office files on a greater number of AMD cards, which guarantees even faster access to Microsoft Excel/Word 97-2003 files for those who use legacy AMD GPUs (VLIW4/5 architectures)
Improved handling of ODF 1.2 format – now it is possible to recover passwords of LibreOffice files with AES-256 encryption and an increased number of hashing iterations
Improved support for Microsoft Office 2013 files. Microsoft Excel files with non-standard internal structure are fully-supported now
Download Free Demos Learn Licensing Terms
Passcovery Suite is the company's flagship product. It accumulates the capabilities of all individual solutions and is used for professional recovery of passwords by users of public sector, security agencies, business and home users.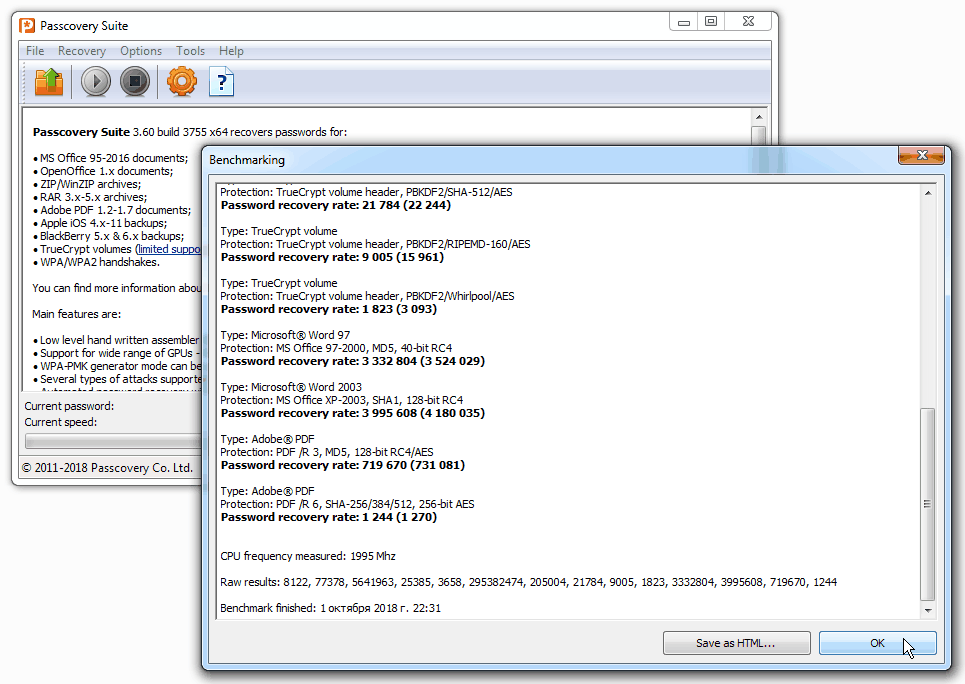 Passcovery solutions enable users to recover passwords of files of popular formats within the shortest time possible.
Benefits of Passcovery solutions:
Running speed. All our programs use optimized algorithms that are adjusted to the CPU clock. That ensures a password is searched as fast as it is possible on the existing equipment.
GPU acceleration on NVIDIA/AMD. Passcovery software products are equipped with optimized executable modules to recover passwords on NVIDIA/AMD graphics cards. Depending on the number and performance characteristics of GPUs available, the speed of searching for a password can increase tens of times.
Range customization. The thing about strong protection is that no matter how high the speed of searching can be, it will never be enough to scan all possible variants within any reasonably imaginable time. All Passcovery programs provide the same options for flexible customization of the scanning range: extended mask, dictionary attack with mutations and customizable attack scenarios. These options (especially when used professionally) are a great time-saver for a user.
It is the high speed of scanning and the possibility to customize the verification range that take Passcovery Suite to the league of the best password recovery solutions available on the world market.
The big October update of Passcovery solutions has brought substantially optimized internal algorithms and increased the speed of scanning which has made them programs of choice for high-speed recovery of passwords on NVIDIA/AMD graphics cards.
The free demo version has no restrictions as to the speed of password scanning and offers full-blown range customization functionality. The demo version employs one GPU device in the system and displays only the first two characters of the found password.
News&Releases
Passcovery update 23.01 is out now: NVIDIA GeForce RTX 40/AMD RX 7000, advanced GPU acceleration and other benefits The new release brings an updated line of Windows programs for password recovery supporting GPU acceleration. What has been added is support for the latest families of graphics cards, improved password recovery on the highest end GPUs and boosted brute force attack on passwords with SHA512 encryption algorithms. 02.03.23
Knowledge base
Follow us
Partners