Press-Release: Optimized Password Recovery with AMD Bulldozer
For Immediate Publication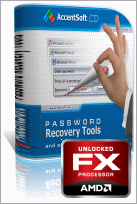 November 2011. The Accent Password Recovery suite has been updated with an optimized program module specially designed for AMD Bulldozer processors. Now users can recover OpenOffice/Microsoft Office/ZIP/RAR passwords up to 40% faster than before.
Passcovery Co. Ltd. has released updates to its professional suite of solutions for recovering lost passwords to files created in OpenOffice and Microsoft Office, as well as ZIP and RAR archives.
The latest versions of these programs contain an optimized module supporting the AVX and XOR instructions used in new AMD processors based on the Bulldozer kernel.
This is the ninth module has added to the Accent suite of programs in order to guarantee maximum password recovery speeds on all modern processors. Each module is designed to make the best use of any family of processors currently available on the market.
Before launching the recovery process, Accent Password Recovery programs analyze the user's processor and select the correct custom module. This approach to low-level optimization for AMD processors with the Bulldozer kernel delivers significantly faster recovery speeds across the entire Accent Password Recovery suite.

The custom module for AMD Bulldozer processors is included in Accent OFFICE Password Recovery 6.1, Accent RAR Password Recovery 1.1, Accent ZIP Password Recovery 3.1.
About Passcovery
Passcovery Co. Ltd. supplies high-speed, professional software solutions for recovering lost passwords. The first versions of these solutions were released in 1999. Today, the company's software is successfully used by law enforcement, government agencies, corporations and private individuals around the world.
Company Page: passcovery.com
Products Page: passwordrecoverytools.com

EDITORS: The AccentSoft Team has free review copies, special offers and additional materials on any of our products waiting for you! Contact our manager Olga Gladysh.
News&Releases
Passcovery update 23.01 is out now: NVIDIA GeForce RTX 40/AMD RX 7000, advanced GPU acceleration and other benefits The new release brings an updated line of Windows programs for password recovery supporting GPU acceleration. What has been added is support for the latest families of graphics cards, improved password recovery on the highest end GPUs and boosted brute force attack on passwords with SHA512 encryption algorithms. 02.03.23
Knowledge base
Follow us
Partners