Press-Release: Accent OFFICE Password Recovery 6: Total Improvement
For Immediate Publication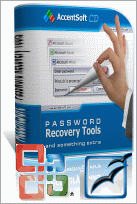 September 2011. Passcovery Co. Ltd. announces the release of the latest version of Accent OFFICE Password Recovery 6, professional software for recovering lost passwords to Microsoft Office and OpenOffice files. Total improvements to every aspect of the software deliver top speeds on any computer.
Improvements were made to every module of Accent OFFICE Password Recovery 6, resulting in high-speed searches for hard-to-recover passwords, an expanded list of supported GPU cards, improved compatibility with all known formats, and support for files created in legacy versions of Microsoft Office.
The most important new improvement boosts the speed with which Accent OFFICE Password Recovery 6 recovers passwords to Microsoft Office 2007/2010 files when run on Intel Sandy Bridge and AMD Bulldozer processors. Accent OFFICE Password Recovery 6 is optimized to take advantage of the AVX technology in these ultra-modern processor families to deliver lightning-fast speeds.
In addition, Accent OFFICE Password Recovery 6 continues to make strides in using GPU computing to speed up password recovery. Version 6 supports an expanded list of graphics cards, including the traditional AMD 6XXX family and the APU, also from AMD.
Accent OFFICE Password Recovery 6 isn't just significantly faster; it also supports files created in any version of Microsoft Office and OpenOffice. The update also includes improved compatibility with OpenOffice and Microsoft Office versions 6-97 and brand-new support for Microsoft Office legacy versions 2-5. Now users can recover the passwords to old files created on computers running MS-DOS!
All these improvements guarantee that Accent OFFICE Password Recovery 6 users will see maximum speeds on any computer when recovering the password to any Microsoft Office or OpenOffice file.
Licenses and Pricing
Accent OFFICE Password Recovery 6 works on any computer running Microsoft Windows (Windows XP - Windows 7). The cost of a license depends on the number of graphics cards supported and starts at $60 for a Basic license.
About Passcovery
Passcovery Co. Ltd. supplies high-speed, professional software solutions for recovering lost passwords. The first versions of these solutions were released in 1999. Today, the company's software is successfully used by law enforcement, government agencies, corporations and private individuals around the world.
Company Page: passcovery.com
Products Page: passwordrecoverytools.com

EDITORS: The AccentSoft Team has free review copies, special offers and additional materials on any of our products waiting for you! Contact our manager.
News&Releases
Passcovery update 23.01 is out now: NVIDIA GeForce RTX 40/AMD RX 7000, advanced GPU acceleration and other benefits The new release brings an updated line of Windows programs for password recovery supporting GPU acceleration. What has been added is support for the latest families of graphics cards, improved password recovery on the highest end GPUs and boosted brute force attack on passwords with SHA512 encryption algorithms. 02.03.23
Knowledge base
Follow us
Partners