Press-Release: Accent ZIP Password Recovery 3. When Results Matter
For Immediate Publication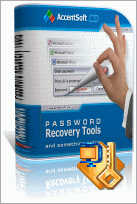 September 2011. Passcovery Co. Ltd. announces the release of Accent ZIP Password Recovery 3, a solution that recovers the passwords to ZIP archives using either classic ZIP encryption or WinZip AES encryption. This new product offers lightning-fast password recovery and supports a wide array of processors. Runs on all modern CPU, GPU and APU from Intel, AMD, and NVIDIA.
Password-protected ZIP archives are frequently a problem for home users, businesses, government agencies and law enforcement. While there are lots of solutions available, the amount of time required to recover these passwords often makes recovery highly impractical. Accent ZIP Password Recovery 3 was developed to help users quickly retrieve ZIP archive passwords on any computer.
Accent ZIP Password Recovery 3 now supports the AVX technology used in Intel SandyBridge and AMD Bulldozer processors. AVX reduces password recovery time by 20%.
Need super-fast recovery? Accent ZIP Password Recovery 3 can also run on an expanded list of graphics cards, including the latest Turks and Caicos cards from AMD. Modern graphics cards leverage a large number of streaming processors, which significantly reduces the time required to recovery passwords when compared to CPU-oriented solutions.
Accent ZIP Password Recovery 3 supports the AMD family of APUs. The software can simultaneously use a computer's CPU and GPU modules as an APU to achieve maximum speed when running through potential passwords.
The improvements to Accent ZIP Password Recovery 3 go beyond hardware support. Version 3 optimizes batches of verifiable passwords to reduce the overall time required for password recovery. The software also uses a macro language to create password mutation rules for use in dictionary attacks, includes an extended mask for brute force attacks and makes use of scenarios to offer automated password recovery.
When results matter, users turn to Accent ZIP Password Recovery 3.
Licenses and Pricing
Accent ZIP Password Recovery 6 works on any computer running Microsoft Windows (Windows XP - Windows 7). The cost of a license depends on the number of graphics cards supported and starts at $40 for a Basic license.
About Passcovery
Passcovery Co. Ltd. supplies high-speed, professional software solutions for recovering lost passwords. The first versions of these solutions were released in 1999. Today, the company's software is successfully used by law enforcement, government agencies, corporations and private individuals around the world.
Company Page: passcovery.com
Products Page: passwordrecoverytools.com

EDITORS: For review copies, special offers or additional materials on any of our products, please contact our manager.
News&Releases
Passcovery update 23.01 is out now: NVIDIA GeForce RTX 40/AMD RX 7000, advanced GPU acceleration and other benefits The new release brings an updated line of Windows programs for password recovery supporting GPU acceleration. What has been added is support for the latest families of graphics cards, improved password recovery on the highest end GPUs and boosted brute force attack on passwords with SHA512 encryption algorithms. 02.03.23
Knowledge base
Follow us
Partners