Accent Internet Password Recovery

In a perfect world, you would never have to recover any passwords. In a perfect world, people always write their passwords down. In a perfect world, people never quit their jobs leaving behind them a pack of password-protected e-mail and FTP accounts.

In the real world, things may differ. In the real world, you always have a chance to lose a password from an important web site and the only way to get back is to recover it from the list of passwords saved by your Internet Explorer. In the real world, people never write down passwords from their Outlook or Outlook Express identities. Needless to say, your ex-colleagues have better things to do than leave you passwords from their e-mail and FTP accounts.
Fortunately, here, in the real world, we've learned to effectively handle problems like this. We recommend you give Accent Internet Password Recovery a try. This is a specialized program to recover all Internet-related passwords on any computer that you can access. We've tried a lot of similar applications and our product is ahead of the pack. It does everything that its competitors normally do. There is a handy Wizard-like interface for fast and easy recovery and the program knows where your standard MS applications (Internet Explorer, Outlook, Outlook Express, dial-up, DSL, VPN and RAS) store your passwords and how to recover them. There is no need to wait while the program is guessing passwords because there is no guessing. All passwords are recovered instantly.
Accent Internet Password Recovery is distributed as shareware (try before buy). The unregistered version has only one limitation: the maximum length of a recovered password is 3 characters. This limitation is removed by registering your copy. Registration price is $34.95 for home using and $69.95 for business.

Take a look at our "all-in-one" Accent Office Password Recovery tool: recover lost or forgotten password to documents created in the latest versions of main Microsoft Office applications: Microsoft Access, Excel and Word.
Quick Info
Latest version: 1.00 (01/16/2005) new product available!
Size: 726 Kb
Platform:

95/98/NT4/2000/Me/XP
Screenshots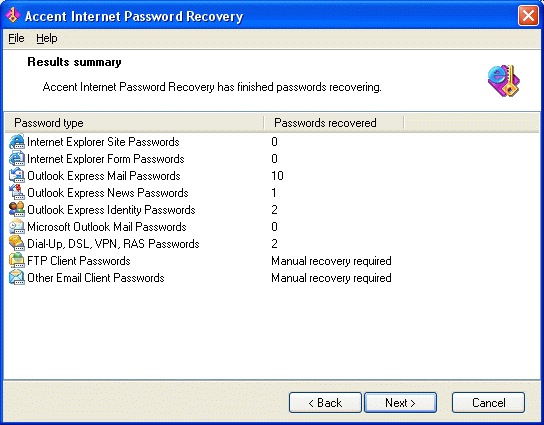 Main window
Knowledge base
Follow us
Partners